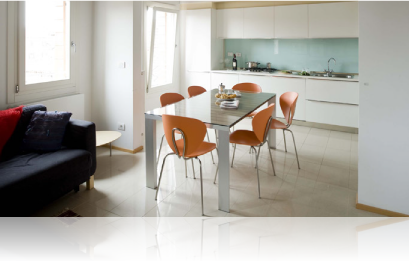 If you are interested in booking the apartment in Campo Ruga, please contact us. Please include your name, telephone number (with international dialling code), date of arrival and number of nights stay, along with the number of people who will be staying. For more information please contact us at info@camporuga.com

| Rental periods | 1 – 4 People | 5 – 6 People | 7 – 8 People |
| --- | --- | --- | --- |
| Low Season | €130 per night | €155 per night | €180 per night |
| Mid Season | €162 per night | €176 per night | €195 per night |
| High Season | €200 per night | €217 per night | €239 per night |
Prices
Rates quoted here are for the apartment per night.
Low, Medium and High Season rates vary throughout the year in Venice, because of festivals like Carnevale, Il Redentore and the Biennale.
Please contact us with the dates you have in mind and we will quote you by return email.
Accommodation
The apartment is spacious and can accommodate up to 8 people. There are 3 bedrooms (1 en-suite), fully fitted kitchen and lounge area with sofa-bed. One of the special features is the altana, the Venetian rooftop terrace, giving amazing views over the city all the way to the Dolomite mountains.
You can find the apartment and some of the wonderful sights of Venice on this convenient map.
Find Campo Ruga on Google Maps
Bedrooms
Bedroom 1 with two single beds. (Can be arranged as a double)
Bedroom 2 with two single beds. (Can be arranged as a double)
Bedroom 3 with bunk beds, travel cot also available.
Bathrooms
En-suite bathroom 1 with shower, WC.
Bathroom 2 with shower, WC and bidet.
Kitchen
Kitchen with gas hob and electric oven, fridge and freezer, dishwasher and washing machine.
Living Room
Living room with sofa bed. Maps, books, DVDs and iPod docking station for visitor's use.
Terrace
Rooftop terrace or Venetian altana, completely safe for young children and spacious enough for 4 people to sit out with a glass of wine!
Services &
Utilities
Towels and linen provided. We can arrange to have fresh milk, water, coffee and bread for you on arrival, especially if you are travelling with small children. Iron & Ironing board. Hair-dryer.

A cleaning charge of €50 applies for groups of up to 4 people.
A cleaning charge of €75 applies for groups of 6 or more.