18th Century Building &mdash 21st Century Living
The 3 bed apartment is in an 18th Century building, on the top floor of 3. It has been completely re-designed by Venetian architect Silvia Zecchin. The result is a bright, airy and extremely comfortable apartment, and it is a joy to spend time in it. It has air-conditioning and central heating.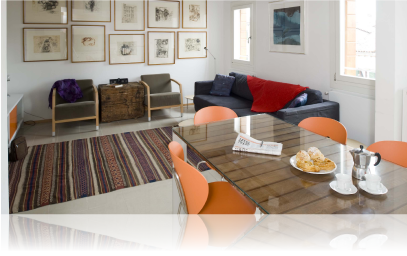 Accommodation
The apartment is spacious and can accommodate up to 8 people. There are 3 bedrooms (1 en-suite), fully fitted kitchen and lounge area with sofa-bed. One of the special features is the altana, the Venetian rooftop terrace, giving amazing views over the city all the way to the Dolomite mountains.
You can find the apartment and some of the wonderful sights of Venice on this convenient map.
Find Campo Ruga on Google Maps
Bedrooms
Bedroom 1 with two single beds. (Can be arranged as a double)
Bedroom 2 with two single beds. (Can be arranged as a double)
Bedroom 3 with bunk beds, travel cot also available.
Bathrooms
En-suite bathroom 1 with shower, WC.
Bathroom 2 with shower, WC and bidet.
Kitchen
Kitchen with gas hob and electric oven, fridge and freezer, dishwasher and washing machine.
Living Room
Living room with sofa bed. Maps, books, DVDs and iPod docking station for visitor's use.
Terrace
Rooftop terrace or Venetian altana, completely safe for young children and spacious enough for 4 people to sit out with a glass of wine!
Services &
Utilities
Towels and linen provided. We can arrange to have fresh milk, water, coffee and bread for you on arrival, especially if you are travelling with small children. Iron & Ironing board. Hair-dryer.

A cleaning charge of €50 applies for groups of up to 4 people.
A cleaning charge of €75 applies for groups of 6 or more.

Try life at a different pace
Campo Ruga is in Castello, a lovely residential area of Venice. Situated off Via Garibaldi – the bustling, commercial heart of the area – which is full of bakeries, fishmongers, butchers and one of the last remaining fruit and vegetable stalls in Venice held on a barge. Washing hanging out, church bells ringing throughout the day, locals greeting each other in the coffee shops and bars, as they stop for a 'Spritz'.
Eat, drink, live
There are some very friendly, traditional bars and restaurants on Via Garibaldi, in particular Giorgione's (where you may be serenaded by the owner), and our favourite, El Refolo. In Campo Ruga itself, Massimo of La Nuova Speranza cooks a great lunch.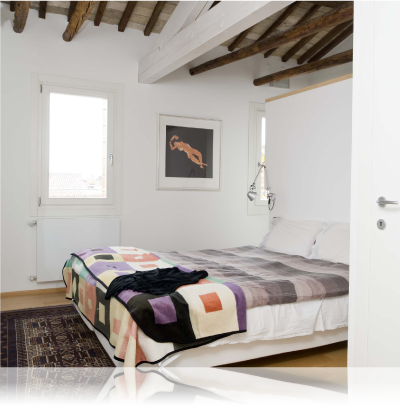 In the locality
You are 5 minutes from the Giardini, the home of the Venice Biennale, and the favourite destination of our children because of the playground and outdoor tennis tables, (bats & balls provided, no excuses). From the Giardini Vaporetto, you are two stops from the Lido, and the beach. Heading up to San Marco Square is only two stops on the No. 1 from Giardini.
Finding Campo Ruga
Getting to the apartment is a 10 minute walk (with just one bridge to cross) from the Giardini Vaporetto stop. You can find us easily on Google maps.